840: New Music for Guitar Trio
17 December 2019 at Iklectik
doors 7.30pm / music 8.00pm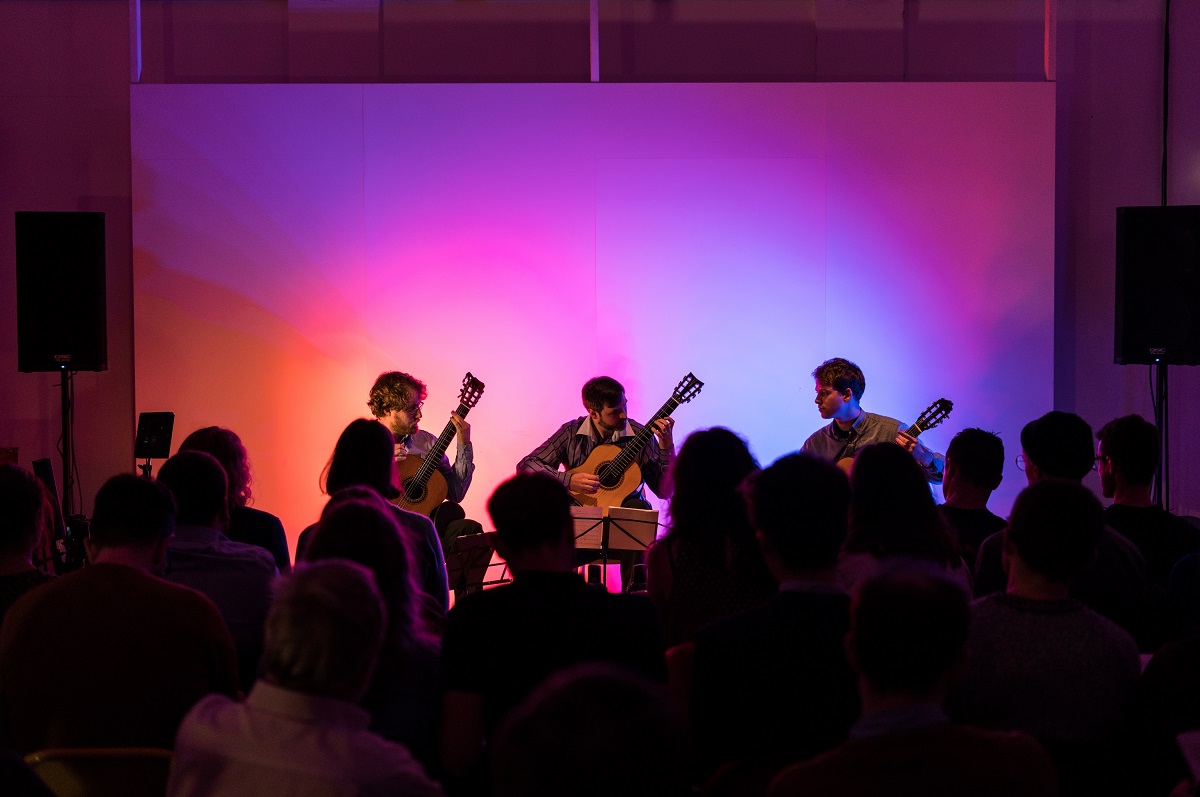 Photo by Ilme Vysniauskaite
840's concert featured music for three guitars performed by the award-winning What Guitar Trio. Much of the programme was made up of works composed especially for the concert, including an exciting new work from Rūta Vitkauskaitė called Fractions of Time, exploring harmonies from Messiaen in fresh and unexpected ways. There were also new pieces from Michael Hughes, Christian Drew, Alex Nikiporenko and James Luff, which are by-turns, sparse, energetic, hypnotic, beautiful and enigmatic.
Also featured was a captivating early piece of Bryn Harrison's, dating from 1997, as well as Stjärnskruvmejsel by Anna Eriksson – composer, sound artist and guitarist living in Gothenburg. Contrasting and complementing everything else, there was also a suite of six pieces by William Lawes, originally composed in the 17th-century for lyra viols, but sounding very much at home in an arrangement for three guitars.
What Guitar Trio is an ensemble made up of award-winning guitarists Michael Hughes, Ioannis Theodoridis and for this 840 performance Sam Cave, who is a leading exponent of new music on the guitar in the UK. What Guitar Trio explore an array of repertoire with a focus on new music. Since its inception in 2016 the ensemble has performed in venues including Wigmore Hall, Barbican and The National Portrait Gallery, and for The Greenwich Early Music Festival. The trio gained a place on the International Guitar Foundation's Young Artist Platform in 2018 and performed at Kings Place for the IGF festival.
The concert was kindly supported by the Hinrichsen Foundation.